iTop Screen Recorder – The Ideal PC Screen Recorder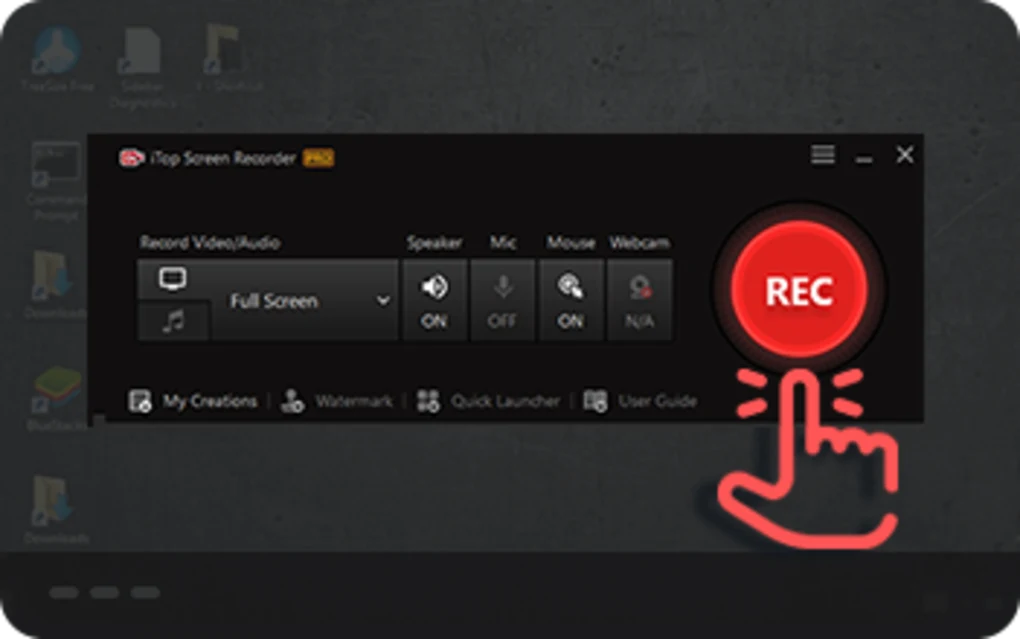 If you want to record your desktop screen, iTop Screen Recorder is the right software for you. It is simple to use and allows you to record the screen automatically. You can select the resolution and frame rate for your recording. In addition, you can add a description and title to your recording. The program also includes a built-in video editor to make it more appealing. The program starts recording by pressing a big rec button on the screen. A countdown appears before the recording starts. You can also choose a region of your screen to record. After you've chosen a region, a small toolbox will appear at the bottom right corner. There, you can pause or resume recording. To stop recording, press the red stop button.
The program also has advanced audio features. You can play the audio from your PC speakers or a narrator. The program can also automatically tag your video clips by genre. Furthermore, it supports all common video formats and is equipped with a video converter. The software also comes with advanced editing tools. In addition to recording your screen, iTop Screen Recorder also allows you to edit and add special effects to your recordings. A green screen effect and other video editing tools are included to enhance your video recording. You can pause and resume recording, too, and add a watermark if you want. You can even set a recording timer. The program will stop recording when the recording time runs out. Other features include a doodle function, which allows you to draw while recording your screen.
For professionals and power users, the Camtasia software is the best choice. This application offers excellent support, training videos, and a lifetime license. However, this program is not the right choice for beginners. If you are unsure about the features of Camtasia, you can always try a free trial version. Online video conferences have become increasingly important in our daily lives. Screen recording software is a must-have for making notes during a video conference. Online tutorials have also become a growing field of work. Many people earn money by creating these tutorials. With its help, they can ensure that their video tutorials are of high quality.
For those with low-end PCs, Dxtory is the ideal option. This screen recording software utilizes a surface memory buffer to decrease the amount of work on the computer and improve the speed of recording. Additionally, it supports multiple audio sources. With these features, it is a top contender among gaming streamers. The app can record your movies, video streams, text, and even webcam. Its features include subtitles and autostop features. Another great feature of this software is its ability to record in high-speed. Furthermore, it offers batch recording, which lets you record several movies or series at once. If you're looking for an online screen recorder that's simple to use, iTop is the best choice for you. Not only does it offer an intuitive interface, but it also supports several popular video and audio platforms. Whether you're recording a game or watching a tutorial, iTop can help you capture it in high-quality. In addition, you can easily share your recordings on popular video platforms such as YouTube, Vimeo, Facebook, and Instagram.
iTop online screen recorder offers a range of features that help you record your screen, including a facecam and audio. It also includes a video editor with built-in doodle tools to make your videos more attractive. You can also take screenshots during the recording process and save them in mp3 and video formats. Another great feature is its ability to record up to 4K resolution videos. This is great for webinars and online lectures, which have become increasingly important in recent years. And as a bonus, you can watch recorded videos and rewind to see what you missed. Furthermore, iTop screen recorder also supports multiple file formats, including MP3, FLV, and WMV.
When it comes to screen recording, you can choose between static and dynamic recording. The former allows you to record the entire screen or just a specific area. And the latter lets you record audio in addition to video, including system audio and narrator. You can even include the sound of the computer itself. However, iTop is not free, and you must purchase the Pro version before you can make use of the feature.